With realistic articulation and close-to-human attention, PBU phantom are ideal for radiography students.
Shoulders rotate full 360 degrees in the sagital plane, approx. 180 degrees to side-ways.
Elbows bend up to approx. 90 degrees.
Hip joints rotate forward up to 90 degrees, then rotate outward up to 45 degrees, respectively.
Knees bend to approx. 90 degrees.
The phantom can be held in the supine frog leg position.
The limbs and head are detachable at joints and neck for wider applications.
The head supporter facilitates various head positions.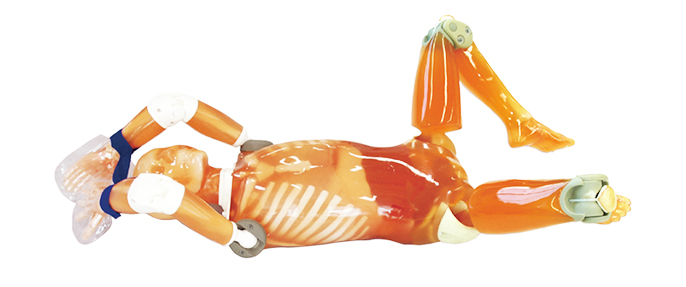 Anatomy:
Main joints have close-to human articulation.
Life size synthetic skeleton
Hands and feet with bone trabeculae
Lungs with pulmonary vessels
Mediastinal space
Liver
Kidneys
Original phantom materials:
Radiology absorption and Hounsfield number approximate to human body.
Materials and features:
Soft tissue and organs: Urethane based resin
Synthetic bones: Epoxy resin
Joint attachments: Epoxy, urethane with carbon fiber
Screws: Polycarbonate
Soft tissue (SZ-50) material

Material
Density g/cm3
Effective Atomic
Number
Electron Density
x10~23e/g
Elemental Composition (wt%)
H
C
N
O
Water
1.000
7.417
3.343
11.19
88.81
SZ-50
1.061
6.14
3.258
8.41
72.25
4.61
14.73
| | Soft tissue | Liver | Kidneys |
| --- | --- | --- | --- |
| Hounsfield number (Approximation) | -7 | 70 | 30 |
| Density g/cm3 | 1.061 | 1.089 | 1.075 |
Set includes:
1 whole body phantom PBU-50
1 head supporter
1 set of sample X-ray images
1 flat head screwdriver
1 set of sample X-ray data(DVD)
manual
Phantom size:
approx. 165 cm/ 65 in height
Phantom weight:
Packing size:
approx. 92x57x38cm 32.3kg
90x63x22cm 22.3kg
89x57x16cm 13.6kg
Packing weight: